The journey starts in winter.

Native plant seeds can be quite easy to propagate, but they have some special needs to abide by. Over thousands of years, native plants have evolved to take a rest over the winter months, before sprouting in the spring. This means that for most native seeds, they REQUIRE winter conditions in order to propagate. During the winter, seeds undergo a process called cold-moist stratification, which helps prepare the seeds for spring germination.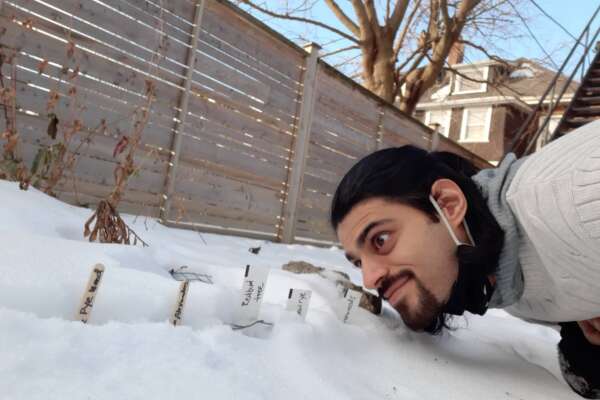 This is where you come in!
Here is a sample winter timeline:

January: You pick up your pre-seeded or do-it-yourself seed kits from a Project Swallowtail pick-up spot (keep an eye on your emails for details!)



Be sure that all your seed trays are labeled so you know what seeds are planted where. This may not seem important at the start, but when you have 400 seedlings that all look the same in a tray, good luck sorting out species!
Start to think about the needs of these plants when they are fully grown; what soil and sun conditions do they require? How much space do they take up? When do they bloom? Identifying these needs will help you decide where these plants can be homed once they have propagated.



February and March:



Ensure the trays have some form of breathable protection on them to keep curious diggers out (i.e., chicken wire, plastic mesh, etc.)
Cover seed trays with natural materials to keep seeds insulated (i.e., leaves, snow, brush, etc.)



March will also give all Seed Sitters an opportunity to check in with each other and native plant experts on the progress of your seeds, and what steps are to come. Webinar information will be shared with you via email ahead of time.



Start collecting old yogurt containers, unused pots, and anything else that can hold soil for a plant, while allowing water to drain. You'll need these for later in the season!

Visit this resource by Project Swallowtail member Sayeh Beheshti to learn more about cold-moist stratification and the needs of native plant seeds.