The Bee Friendly Farming (BFF) programs recognize, engage, and support BFF participants and pollinators everywhere. The BFF program has three categories that allow for engagement with all participants in pollinator conservation while addressing their landscape goals: Bee Friendly Farming CERTIFIED, Bee Friendly Farming PARTNER, and Bee Friendly GARDENING. The three categories have slightly different criteria and benefits. Be sure to select the appropriate category for your application.

For Renewals: If you have not yet entered the automatic renewal system that went into effect in January, 2020, please fill out and submit the application. This will automate the renewal process for you in future years. To receive a Historic Member Code that will speed up the process, reach out to isaac@pollinator.org.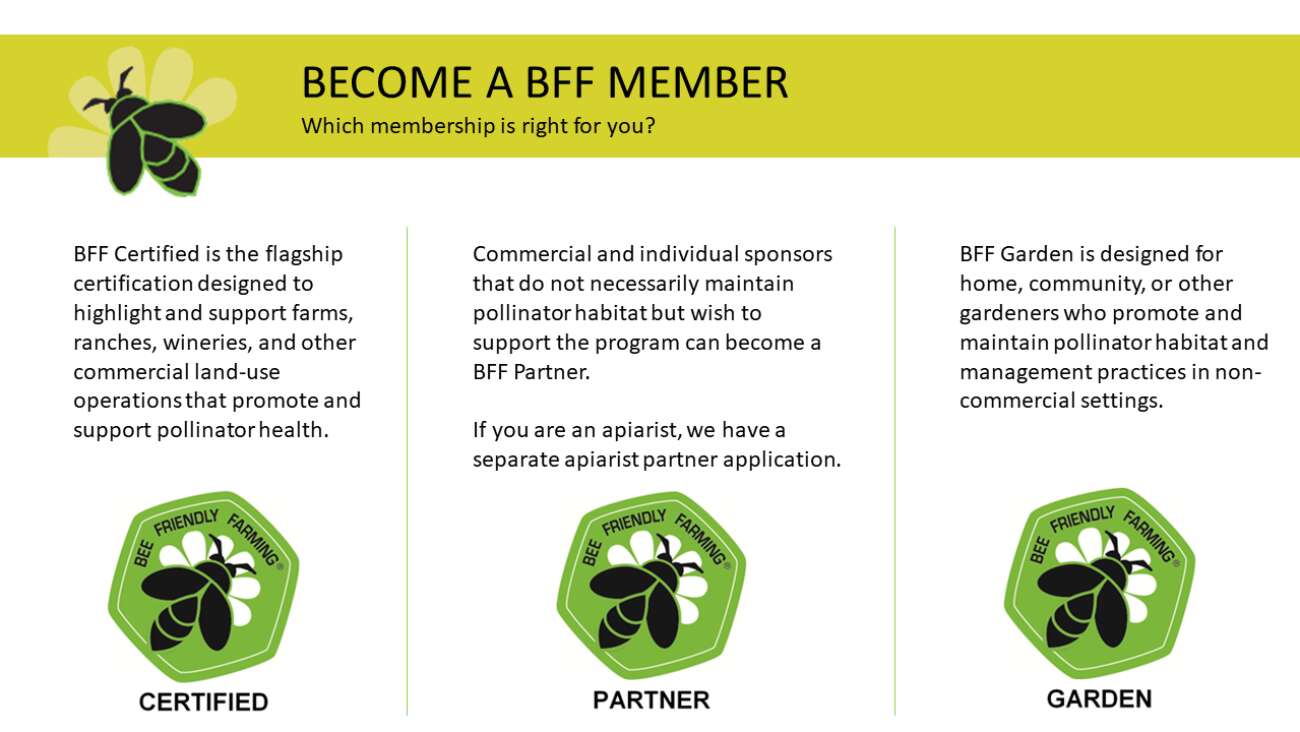 Bee Friendly Farming Certified
The BFF flagship certification has been revamped and redesigned to highlight and support farms, wineries, ranches, and other commercial land-use operations that promote and support pollinator health. By becoming Bee Friendly Farming CERTIFIED the grower helps preserve and protect pollinator populations by implementing positive, incremental, substantiated changes on agricultural landscapes.
Each Bee Friendly Farming CERTIFIED farm is an essential part of keeping pollinators healthy and the food supply abundant, and receives use of our Bee Friendly Farming logo and can be featured on the P2 blog for product promotion. Before applying, please view the logo use agreement.
Bee Friendly Farming Partner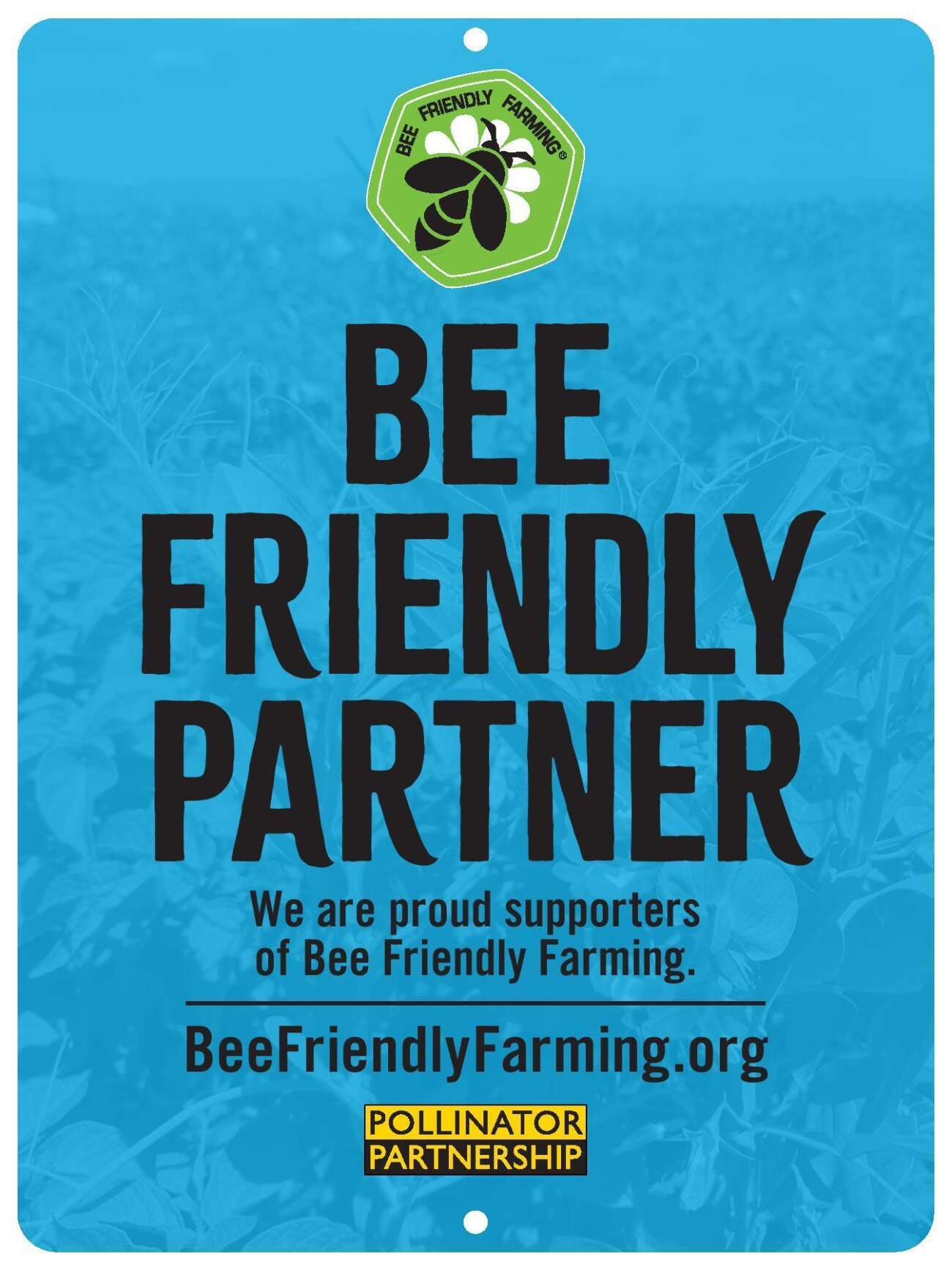 In order to support our pollinators, commercial and individual sponsors can become a Bee Friendly Farming PARTNER. BFF PARTNER registers sponsorship from companies and individuals, but also includes commercial apiarists who do not actively manage their own landscapes, but wish to support the program. These annual sponsorships provide the resources necessary to build and maintain this program, benefiting pollinator health and food security. Sponsorships and donations will not only benefit pollinators, they will benefit us all.
Bees and other pollinators are threatened, but with support from Bee Friendly Farming PARTNER members, P2 is developing programs that help improve pollinator health on landscapes across the globe. Before applying, please view the logo use agreement.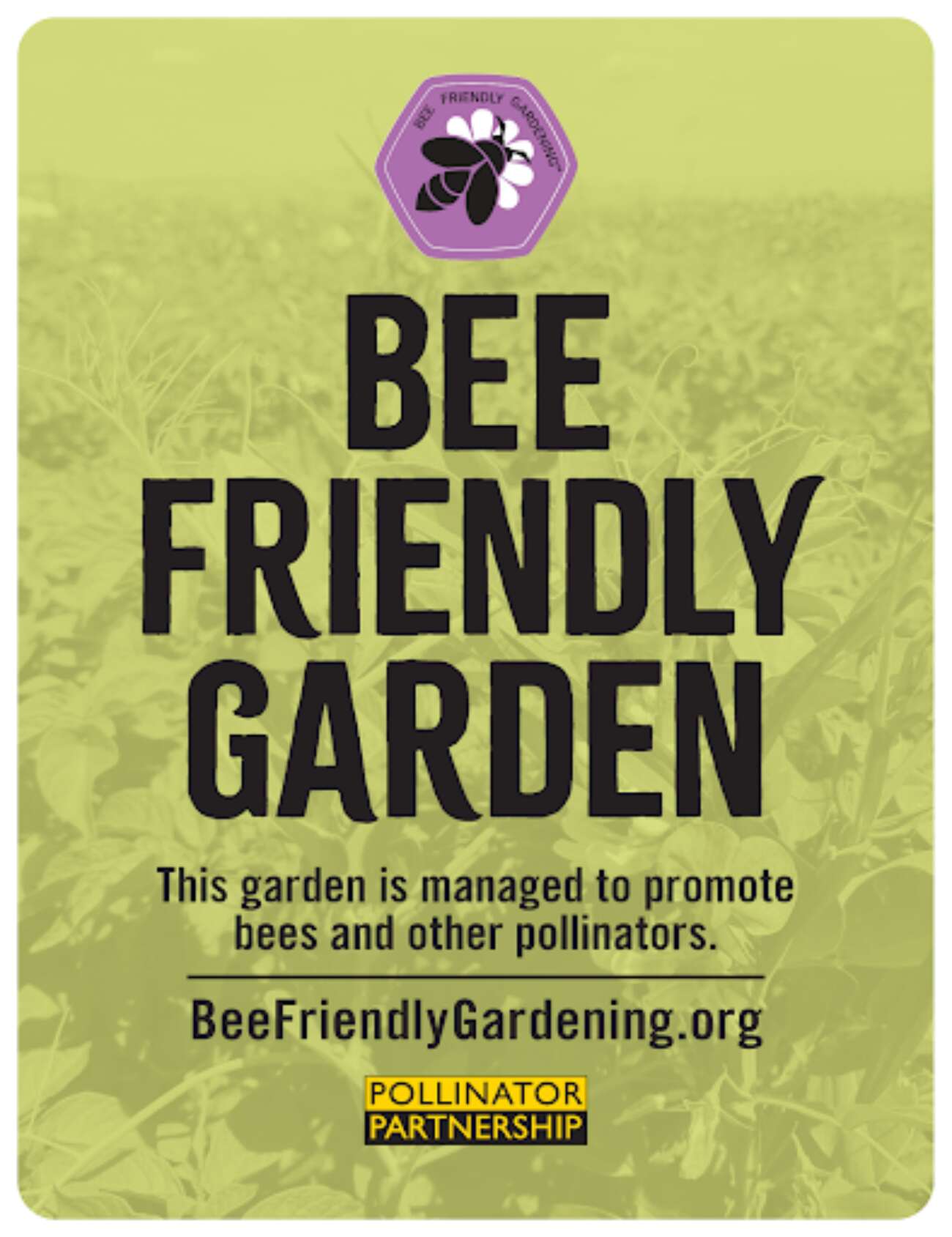 BFF's newest and most unique category of registration is specifically designed for home and community gardeners who promote and provide habitat and pollinator health in non-commercial settings. Bee Friendly GARDENING has been designed to distinguish these members from commercial farming enterprises or sponsors, as well as highlighting gardeners who follow the specified guidelines in providing for pollinators and offering a diverse and permanent habitat source at a scale at or above a small home garden.
In addition, Bee Friendly GARDENING registration means limiting or avoiding the use of harmful pesticides on blooming plants, and paying the annual $25CAD registration fee. Before applying, please view the logo use agreement.