This is where your labels are crucial. Grab some friends and get ready to pot!
Depending on the species you have in your seed trays, the amount of insulation they receive, sun exposure, and how the energies are flowing that day, your seedlings will start to germinate at varying times. Do not get disheartened if you don't see any sprouts in April, or even late into May. When they sprout, they won't look like much, so keep a daily eye on your trays to track progress.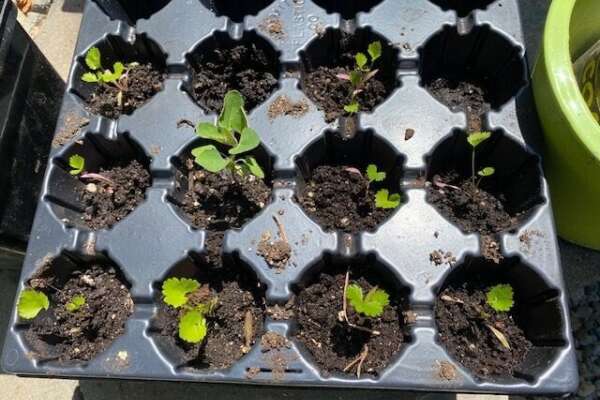 Here is a sample timeline for April to June:
April: Spring weather varies drastically year on year, but once the first rains and blooms start to arrive, consider adding an extra layer of protection to your trays. You will need this protection to keep wind-transported plant seeds out of your trays.



If continuing to keep your trays outdoors, you can protect from seed transfer by covering your trays with row cover or plastic. Be sure that the seedlings have enough air flow so as not to burn via a greenhouse effect.

OR, if you have the space, bring your trays indoors and place them near a sunny window to continue their growing process.

May: If you haven't already, start amassing pots, old yogurt containers, and other things that can hold soil and drain water. You can start getting ready to plant if you have some seedlings popping up!



How many containers should you have? Probably more than you think! If you end up with too many, we'll connect you with other Seed Sitters to offload containers to.
You will also need soil for these containers. In 2021, Project Swallowtail Block Ambassadors reached out to Down 2 Earth nurseries and received a generous soil donation to use for their plants. We will be looking to do something similar in following years, but in the absence of soil donations, connect with other Seed Sitters for soil ideas!
We will have another check-in for all Seed Sitters in May. Webinar details will be emailed to all participants.


June: Label, Record, Distribute! By now most plant species will have started to turn into seedlings. Grab your closest Project Swallowtail or Butterflyway members, Seed Sitters, or other plant lovers, and have some fun!



You'll need labels of some sort (Popsicle sticks, skewers, strips of yogurt containers, etc.) and something to label with (sharpies work best long-term).
Record in an excel sheet or other document the number of seedlings you have propagated for each species you happen to have. These records are an incredible way to track your accomplishments, and for us to report on the success of Seed Sitters, and learn more for future years of the program.
Start putting feelers out to folks who may be interested in the plants you have!